Hi everyone! Happy November! Time to get in the spirit of the holidays! The rest of the year is coming fast and we're here today to help you plan out your holiday cards! I'm so excited to be part of this awesome Pinkfresh Holiday Cards Blog Hop today! This is a huge TWO DAY blog hop with fun, inspiration, prizes and a free gift with your order too! Please CLICK HERE to see the entire beautiful line of holiday stamps and dies from Pinkfresh Studio - one of my favorite companies! CLICK HERE to go to the Pinkfresh Blog to see all the details each day, or if you get sidetracked along the hop! The full list of all the designers is at the bottom of my post! Grab some cocoa and relax with us and get inspired for the Winter Holidays! Thank you for coming by today. If you're new to my blog - welcome welcome! Glad to see you! 
I made two cards to share today - one is icy blue and the other is warm and extra sparkly. Both are made with gorgeous stamps and dies from Pinkfresh in their truly unique whimsical and pretty style. The images are happy and they make me happy too. 
First up is a Magical Chrisma-corn! I just made that up! A Christmas Unicorn! Love her! She is flying through the air to spread glitter and sparkle over everyone. This stamp set is called Magical Christmas. Love. The card base is A2 in white. Then I layered red, some pretty patterned paper, and then vellum. I love the look of vellum over patterned papers... 
I stamped and die cut out the Christmas Unicorn and then colored her mane and tail with Copic Markers in red and green. Her horn is silver embossed and the scarf is red ink. The head, body, scarf, and horn are all different stamps - so you can make them different colors. Genius I'd say! Made it so easy to stamp a red scarf and emboss the horn. I used a bit of white twine and pretty small silver bells to put around her neck. She is a Chrisma-corn after all!
The sentiment and the snowflakes were stamped onto the vellum with white pigment ink. I also used Copic Opaque White to make snowy splatters onto the vellum. Be sure to set that aside and let it get good and dry before attaching it to your card. 
Isn't she beautiful? 
Next up are these adorable bunnies skating by to say hello and Merry Wishes! This card was made with the Pinkfresh Skating Bunnies stamps and dies. I used an icy blue and grey color palette for this card. I love how it came out! This is also an A2 white card base. I layered grey and then pretty plaid patterned paper on a diagonal.. 
I stamped and die cut the bunnies and colored them with Copic Markers. I die cut a circle for them to skate on and used Distress Ink and a blending tool to make a pretty matching blue sky. I stamped snowflakes in blue onto the sky portion. I also splattered some of the same Copic Opaque White as on the first card. (Supplies are all listed below). 
They are just so so sweet skating around. The one on the left reminds me of John Travolta in Saturday Night Fever! He's going for it out on the ice! This card is perfect for any winter holiday occasion. 
I glued on a few sparkly blue gems at the end to finish off the card. 
Now for the good stuff! Prizes and Free GIfts! Pinkfresh Studio will be picking SIX random comments from the designer blog posts, from each day to win a $25 gift card to the Pinkfresh Studio store. That's twelve total prizes! How awesome is that? AND - there will be TWO GRAND PRIZES picked from the Pinkfresh Blog posts: each day a different bundle of their holiday stamps & dies. (The prizes will be pictured each day on the Pinkfresh blog).
Pinkfresh Studio will pull the winners & post them on Sunday, November 11th by 2pm CST on their GIVEAWAY PAGE. Note: You must check that page & claim your prize within 2 weeks.
BUT WAIT!  Pinkfresh is also offering a FREE Holiday Vibes die with $25 purchase in the Pinkfresh Studio shop.  A photo of the free die is below! Yay!
SUPPLIES FOR TODAY!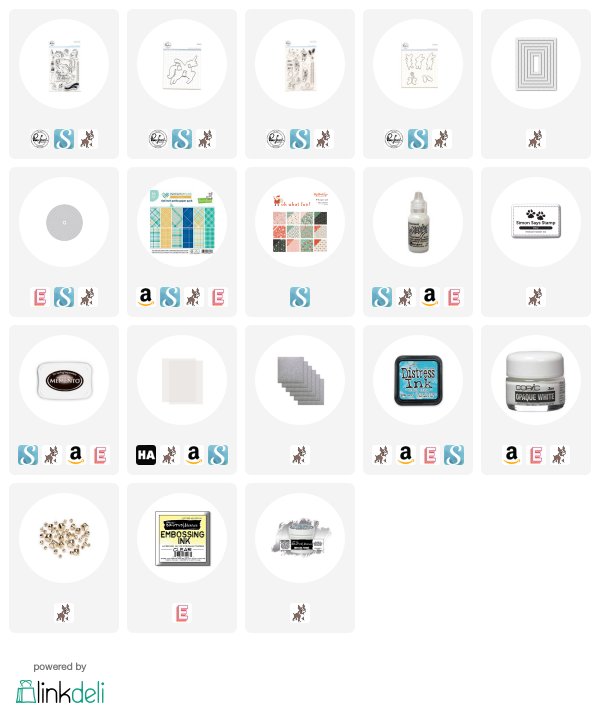 FULL LIST OF TODAY'S DESIGNERS! ENJOY THE HOP!
<!-- end InLinkz script →